Which Anime Character Do You Eat Like Quiz – Which Anime Character Are You Based On Your Eating Habits?
Do you like spicy or sweet things? What are you craving for right now? You are definitely eager to find out "Which anime character are you on the basis of your diet?" Well then, end this curiosity and answer the Which Anime Character Are You Based On Your Food Quiz because it is the most accurate and updated quiz you would find anywhere.
WHY SHOULD I TAKE THE ANIME CHARACTER FOOD TEST?
All you need to do is answer a few questions and in return, the Which Anime Character Are You Based On Your Food Test would reveal which anime character's attributes and qualities are hidden in you. It can be anyone from millions of characters that have starred on the screens up till now! Are you excited???
CAN FOOD CHOICES REVEAL SOMEONE'S PERSONALITY?
Yes absolutely! What you choose on the menu card indicates your personality and habits. Read about types of food and which kind of people like them below. And, next time you go out with someone, then remember what to pick!
Spicy Food
Spicy food is something that is liked by ones who are daring and risk-takers. They don't consider much about opinions which other people make, instead, they have their own life which they enjoy without worrying about the consequences. Sometimes they get the best while other times, they might end up in difficulties, but you'd never find them weeping over it.
Sour/Tart Food
Sour is a flavor that is often preferred by people who are more competitive and hardworking in nature. They try to be different from others and struggle to reach their peak with their diligence and out-of-the-box ideas. Many of them are very sarcastic and don't think before speaking so they become really harsh.
Bland Food
There are people who're always protective and alert (have you met any?). Many of them pick bland food items that aren't much oily, cheesy, creamy, spicy, etc. They don't like very flavored food and the same goes for their life, they prefer simple and non-adventurous life. Work-Rest-Repeat!
Sweet Food
It's not always necessary that the one who keeps eating sweet things is nice or kind-hearted but many are! People who are crazy for sweet things are energetic and optimistic. They never lose hope and keep striving. Plus, they are eager to bring positive changes not only within themselves but in society as well.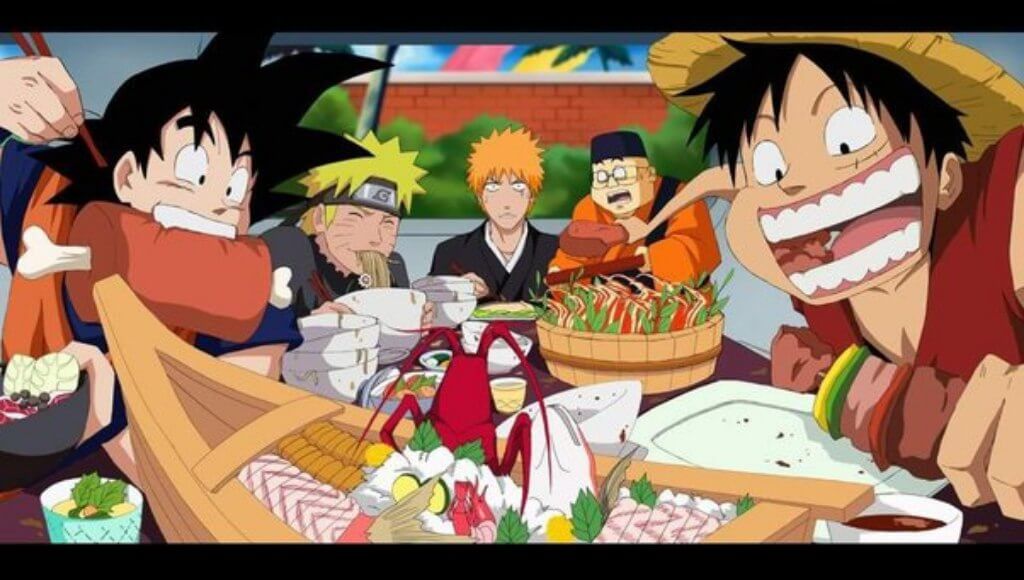 WHO ARE THE BEST FOODIES IN THE ANIME WORLD?
Son Goku
Son Goku loves food! He can do anything for it. The best thing about him is that he isn't picky at all. He eats whatever he gets whether it is meat, seafood, rice, etc. Goku's mind always goes around food and the only thing that can calm him is his appetite. You also live for food! It is a fact that your bonding with it is old and you don't care what and how you get it; it should just be edible (hahaha).
Monkey D. Luffy
Monkey is someone whose appetite never ends (we mean it!) Once he begins eating then nothing on earth can make him stop as his stomach never gets full. Monkey is always found asking for more! The elasticity power of his body equally affects his eating capacity. Monkey loves to hunt big fishes, birds, animals, and grabs tons of fruits and vegetables for himself. You are also someone who can't hold back once you find food.
Toriko
Toriko's character in the anime is always in search of the flavors that are unique and delish. His taste bud is quite developed and he can't just put anything in his mouth, Toriko wants the best! He searches for the best places to eat and never goes to any food place where he might get disappointed. Like Toriko, you don't care whether the place is small or big, but you are very particular about flavors. You don't put trash in your mouth.
C.C.
C.C. is a junk foodie, she can't resist things like burgers, burritos, and especially "pizza." Her one and only love is food and in it, is pizza! C.C. maybe be someone who eats some incredible mouthwatering things but she is sooo slim and smart. You are also of her kind, you eat, and eat, and eat but nothing seems to affect your body.
If you are thinking which anime should I watch now then answer the What Anime Should I Watch Quiz.
WHICH ANIME CHARACTER WOULD DATE YOU BASED ON YOUR FOOD CHOICES?
Haven't you observed that two people who don't have taste buds alike often end up breaking the relationship! It's because one loves sushi but the other is allergic to seafood (it's just an example!). On the other hand, a couple who likes the same cuisine and dishes would immensely enjoy each other's company. So, taking this quiz would really enlighten your mind in terms of relationships.
IS THE FOODIE ANIME CHARACTER KIN QUIZ FOR ME?
Of course! It's not really necessary that you date someone for food. Having a friend who shares the same food taste is a blessing. Though you can't find one in this world but have you looked into animes? Try seeking which foodie anime character do you kin and you'd be happy to share your food habits with him/her. Afterward, you will be able to find the one in the real world when you'll find the one who receives the result same as you!
WHICH FOODIE ANIME CHARACTER ARE YOU MOST LIKE?
There can be nothing better than getting to know the person who has a taste bud the same as yours. But for that you have to follow 3 simple steps:
STEP 1: Answer all questions in the "Which Anime Character Are You Based On Your Diet Trivia."
STEP 2: When you get to know which anime foodie character are you, share the result on social media.
STEP 3: Have a small chat and plan an outing with the one who has the same result. Enjoy food in your favorite restaurant! Simple!!!