Which Doraemon Gadget Is Perfect For You Quiz
Everybody desires Doraemon's secret pocket for the amazing gadgets in it. Do you also want to know what Doraemon Gadget do you need right now? Come on then, ask the Doraemon Gadgets Quiz- 2022 Update as it is the best on the internet.
WHAT IS THE GADGETS OF DORAEMON QUIZ FOR?
Good thing you asked! The quiz is just to tease your brain as it is getting so boring. Just answer 15 funny, intriguing, and life-related questions in the quiz. In the end, the Doraemon Gadgets Test would tell you what Doraemon Gadgets do you need right now. Doesn't it sound fun? So, hurry up and check it out!
WHAT ARE DORAEMON GADGETS?
If you are a Doraemon lover then you would definitely know what are his famous gadgets but if you are you new to it then listen up! Doraemon is famous for its diverse story, characters, and especially the gadgets that the future cat owns. Nothing is simple in the anime as Doraemon is a 22nd Century cat that Nobi Nobita's father brought for him. At first, Nobita didn't like the earless, heavy, and odd-looking cat. However, Doraemon begins to speak and his reality was revealed.
After traveling from the future, there are many things that Doraemon can make happen. The cat has no magic, instead, he plays with technology that is advanced enough to be like a miracle. Doraemon has a 4D pocket also called the "Wormhole." He has a world in it and gadgets which are perfect for different situations and needs. Doraemon takes out new and innovative gadgets in every episode which leave everyone awe-struck and he eventually helps Nobita Nobi, Shizuka Minamoto, Takeshi "Gian" Goda, Suneo Honekawa, Dorami, and others.
ARE DORAEMON GADGETS REAL?
Hahaha, no! None of the Doraemon gadgets are real and all are just for the sake of fun. Though we can see how Doraemon anime fans love them and wish to have them to make life easier.
THE 4 COOLEST DORAEMON GADGETS RANKED
We have listed the 4 best, strongest, and most helping gadgets below. We know you'll fall in love with each of them and your desires would have no boundaries.
Honest Taro
Honest Taro is also called a Cursed Doll, but we think that it would be more like a blessing to you. Want to know why? Let us reveal a little about you first! Don't you find it problematic to speak in front of all about what's going on in your mind? This problem can be solved soon with the Honest Taro. It is a doll that can read the user's mind accurately and says what he/she can't.
We have observed that you are a little shy and find it hard to speak in front of all. Either you are scared, hesitant, or just don't wish to say in order to avoid embarrassment. Honest Taro would say everything for you within minutes. So, tell us, haven't we picked the right thing for you? But, make sure you don't use it in front of your boss!
3D Printer (Mecha Maker)
If you ask us, "Which Doraemon Gadgets is best for you?" then we'd claim the "Mecha Maker." There are many reasons behind it so let's count them one by one. First of all, you are very creative and have millions of innovative ideas in your mind. Then, you experience different situations daily so it would be best. Last but not the least, you would employ the 3D Printer wisely.
If you don't know what's a Mecha Maker aka 3D Printer then let us help you. This gadget has two big openings and can make any thought alive. All you need to do is think of any structure in your mind and draw it on paper. The printer would take in your sheet, work on it, and a life-size structure would be in front of your eyes and it can be anything you like!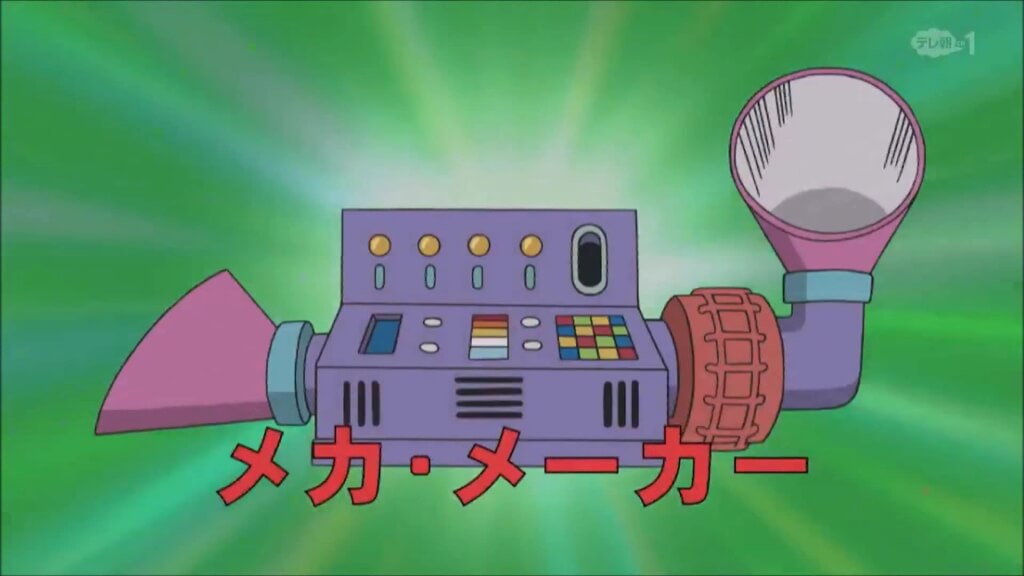 The Devil Card
Are you always out of money? No worries, The Devil Card can be pretty useful for you in many ways. We know you love shopping, games, bars, dine-outs, etc but can't afford much of it. However, everything can be solved using The Devil Card because this single card can give you money as soon as it is shaken. So, you can buy whatever you want and you'll have a never-ending supply of money.
Contrastingly, won't you like to know what would you do for The Devil Card in return? Hahahaha, this world runs on give and take so keep that in mind, Always! Once you would cash out 300 Yen (Japanese currency) from it, the card would reduce 1 mm of your height automatically, which isn't replaceable. So, be very vigilant.
Memory Bread
Do you often forget keys, work, lessons, dates, important events, etc? Well then, chew some bread and all would be good again! We aren't talking about any ordinary bread instead, it is the "Memory Bread" that can help you remember everything and anything you wish to keep in your mind.
The process is simple, take a slice of bread and place it on the page from which you need to remember things. You can write anything you want, for instance, birthdays, lessons, chapters, or even a whole book. Then, place the bread slice over it and soon you will notice that the bread would soak everything on itself and it would feel like a picture to you. That's it, chew the bread and as soon as it would go into your stomach, you'll memorize everything it had!
Other than the gadgets, if you want to know your character in this fun series then enter the Doraemon Gadget Quiz and see who are you in it!
WHICH DORAEMON GADGET DO YOU NEED RIGHT NOW?
Let everyone see what gadget comes out of Doraemon's pocket for you (after the Doraemon Gadgets Trivia!). We can see the smile on your face and to be honest, it's really valid. Who wouldn't want to have Doraemon's gadgets?