One Piece is undoubtedly one of the most celebrated animes in the world and everyone who admires anime has watched it. However, there are some silly and weird people who think that One Piece has been unnecessarily hyped. Do you think you like them as well? Here are "10 Authentic Reasons" mentioned which would end you up watching One Piece just after reading.
Either you don't watch One Piece or it is someone who has been poking you for being a One Piece fan. Just send the link to this article to them and in less than 5 minutes, they would team up with you to binge-watch One Piece. Listen up, it's a guarantee that you would become an admirer of One Piece once you would read the reasons why it is so famous in the world.
Detailed Storyline
You must be thinking that people usually avoid watching One Piece because they think it's too long. But we have mentioned its detailed plot in one of the 10 Reasons why you should finally start watching One Piece, how does this make sense? Listen, being long isn't a problem until the story doesn't halt to impress. Haven't you seen Game of Thrones, Friends, or read Harry Potter, Twilight series, etc! All these are pretty detailed and long as well but still reached the height of fame.
This is the reason why we claim that the longevity of One Piece is the best part about it because we get to perceive various dimensions of the story which would otherwise be missed. One Piece has been streaming on the screens for more than 20 years but we can assure you that you'll watch it all automatically once you'd begin with one single episode.
The Vast World
While the team of Monkey travels from one place to another, we witness some of the most amazingly designed locations. Islands, plateaus, valleys, kingdoms, and other things that are pictured in One Piece are astonishingly pleasing and serene. These places often urge viewers to continue exploration like Monkey if they really wish to enjoy life. Most of the places are fantasy but still, they all are designed in such a way that feels more real than any other thing.
If you already watch One Piece and are a great fan then let the world know! Answer the One Piece Trivia and check how well you know the anime?Prove that you are a part of the One Piece fandom!!!
Amazing Characters
Who would deny that One Piece has one of the most established characters among all animes? There are many reasons why this particular anime has been everyone's favorite. Here, we all must concede that it is the characters of One Piece who have bound us with love for it. Each character in the story is given equal importance whether it is the main protagonist Monkey, his friends Zoro, Sanji, Chopper, Robin, Nami, Franky, or others. Everyone, even the villains are so fantastically designed that they are appreciated by all. The backstory, present, and future of each character are defined in an ideal way.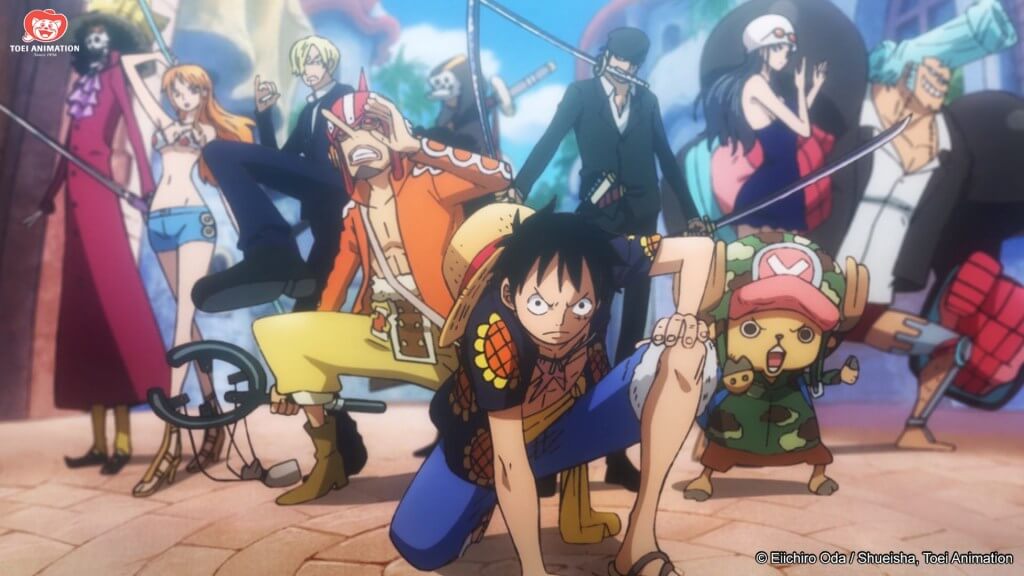 Zero Unnecessary Arcs
Usually, animes and mangas are loaded with content that feels like it doesn't belong in it. Everyone who watches it can ideate that the particular scenes have been added to stretch or as a filler but in One Piece, this is not the case. Every scene in the story is vital in order to connect with other parts. So, we can claim that do not miss One Piece anime if you are thinking that over 1000 episodes have been created with the help of fillers, nope! Fans don't lose interest because they are provided with fresh content every time.
Music!!!
Music drives everyone and the OST and other soundtracks of One Piece are truly amazing. This adds more spice to all the action that takes place. No one can get bored of the music that plays behind Monkey, during battles, after crossing a milestone, etc.
The Fruits
Believe it or not, the magical Devil Fruits in One Piece are the most influential part of it. At first, we used to observe a few which the characters ate at the start, but now there are infinite. The innovations of Devil Fruits, their powers, weaknesses, after-effects, etc are all intriguing. After watching so many Devil Fruits changing the lives of all, we are about to leave for an expedition. Who knows if we'd really find one somewhere (Hahahaha!).
Transition
As mentioned above, One Piece has completed its 20 years and is still weighing for more. Haven't you seen how tremendously things are managed and blended with modernity and transition with time? Whether it is the graphics, voice quality, or any other thing, designers have made sure that One Piece isn't left behind in any way. Things have revolutionized in these past years and so have One Piece.
It's So Funny!
We all hardly get to laugh without any mask or hindrance. One Piece gives us all a chance to laugh our hearts out with the humor and pun that unfolds in the story. Every character, even the most serious ones ends up doing something that is funny and the scene begins to grab pace. These fun moments are vital for relieving all day stress and anxiety and just feeling like a me-time! Make sure you also start watching One Piece if you are exhausted from your monotonous routine.
You'll Never Know What Happens Next!
Who knew that One Piece would continue for 20 years, no one! Similarly, no one can predict where the story would turn in the next episode. There are so many characters, arcs, and twists that thinking about the story is unimaginable. This thing attracts all as everyone is curious to know the end.
Emotional Attachment
You might find it funny for what we believe is one of the 10 Reasons why One Piece is the best anime of all time. After all these years, we are emotionally connected to each character in this anime. Not only this one, but every character in every anime is vital and when die or are pushed behind then we feel it. In One Piece, this hardly happens because every character is influential in the story and so is kept alive even if it's a villain!